Karishma Kapoor




Karishma's magical wedding
Karishma (whose name means magic in Hindi)
''I want to be close to my grandfather and receive his blessings on the occasion of my wedding,'' says the actress on the choice of venue.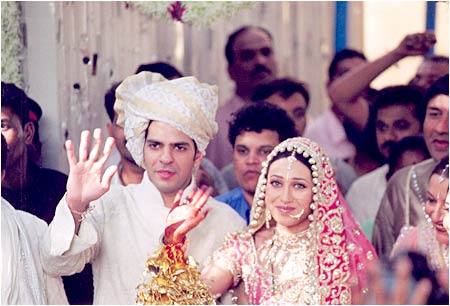 Karismas bridal dress matched her naturally pink cheeks the silver and gold jewellery went well with the zari work on the ghagra choli. Hubby Sunjay looked dashing in an off white sherwani. Kareena Kapoor looked resplendent in a green ghagra choli. Mother Babita was glowing in a peach-coloured outfit. Shammi Kapoor and Shashi Kapoor were also present.
Click for Karishma's bridal poses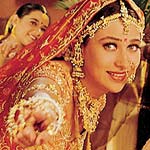 Karisma and Sunjay Kapur soon after their wedding.
Did Karisma ever dream that Sunjay -- brother of her dearest friends Superna and Mandira -- and someone she knew as a child would one day end up marrying her?
The Wedding Atmosphere
The Deonar-residence of the Kapoor clan was today buzzing with activity as country's leading actress, Karisma Kapoor, tied the nuptial knot with Delhi-based businessman, Sanjay Kapur.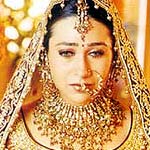 Days Before The Wedding
The entire function is planned at the RK cottage, where the marriage is to take place at on the September 29 and the guests will then partake of the lunch served. There is to be no separate reception, and so all the guests are to be present for or after the marriage. Sister Kareena is still shooting for Chameli. The bridal clothes are still being readied, Karisma is trying out her bridal finery. She has insisted on whites and off-whites as her bridal outfit.
The revelry starts from Saturday when the groom-to-be throws a party for the brides family. Sunday will see the traditional mehndi ki rasam and finally Monday the 29th will see Karisma turning into a bride.
Facts
There are three functions the party, mehendi and the wedding.
The party is from the boy's side at his place.

The wedding will be held according to Sikh rites.

Karisma is said to have invited all the people she has worked with including both directors and co-stars.

The wedding lunch will be held on the grounds of the RK Bungalow in Deonar.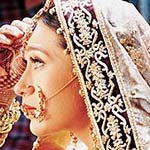 Decorations At RK Cottage
The two-storey, white-washed cottage fenced by green picket is not exactly abuzz with activity. But it does exude that something-waiting-to-happen aura.
Through gaps in the fence, labourers can be seen working inside the compound and cars are parked inside the compound. Once again, the RK Cottage in Deonar is being readied for a Kapoor wedding. Film star Karisma Kapoor has chosen the cottage to tie the knot with industrialist Sanjay Kapur on Sept 29.
The watchman politely declines to give out any information to this curious reporter about the hustle and bustle inside. All he says is that the boundary of the bangalow is being repaired. Nothing else is happenings, he insists.
The last wedding at the cottage was in 2000 when Rajiv Kapoor married Aarti.
According to sources close to the family, Karismas wedding will be an open-air affair and shamianas will be erected around the 4,200 square metre plot.
The wedding ceremony will be held in the morning, followed by a reception later in the day at a hotel.
Most of the Kapoor family was in Delhi. They arrived in Mumbai only on Sept 16. This, perhaps, explains the lull at the cottage.
Nonetheless, if the Kapoor familys penchant for showmanship is any indication, Karisma's wedding too is likely to be a grand occasion.
Nirmal Sarana, Krishna Kapoor's sister, who stays in Eden Garden, near Maitri Park, says, All Kapoor weddings have been a grand affair, with no less than 1,000-2,000 guests. I have fond memories of all the events held at the cottage.
Not just weddings, even birthday parties and New Year parties were organised at a grand scale at the cottage. There would be caterers from outside, in addition to their own cooks, Sarana says.
Gayatri Marwah, who is doing the decor of the function, has turned the garden into a sheesh mahal. Ive done up the place with fabrics and mirrors. The garden should accommodate 600 guests, says Marwah. The house will be bedecked with flowers. Wedding rites will be conducted in the garden at as per Sikh tradition and will take an hour. Guests will be treated to lime juice, coconut water, rose water and fruit juices. There will be no alcohol till the wedding ends.
Karisma uncle Prem Kishen (his father, the late Prem Nath, was the brother of the Raj Kapoor's wife, Krishna, told rediff.com, on September 26, "Krishna aunty is at my place [with his mother, the legendary actress Bina Rai] today because her house is being decorated." Karisma is Raj Kapoor's first grandchild to be married at the cottage.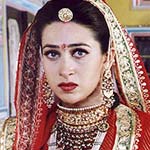 Resident "Deonar in spotlight due to Karisma's wedding"
Karisma-tic Wedding today At RK Studio
September 29 is a special day. Bollywood's blue-eyed girl Karisma Kapoor ties the knot with childhood friend and Delhi industrialist Sunjay Kapur. With so many actors in the Kapoor family, it goes without saying that the wedding will be a star- studded affair.
Name: Karisma Kapoor
Date of Birth: June 25, 1974
Zodiac Sign: Cancer
Debut film: Prem Qaidi
Also known as: Lolo
Claim to fame: She hails from the first family of Hindi cinema. She is great-granddaughter of Prithviraj Kapoor, granddaughter of Raj Kapoor, eldest daughter of Randhir Kapoor and Babita, ad the sister of Kareena Kapoor.
She was originally slated to debut in Dharmendra's Barsaat opposite Bobby Deol. The movie was interminably delayed and Karisma opted out. She decided to sign Prem Qaidi opposite the virtually unknown Harish. The film clicked.
Downers: In a career that has spanned a decade plus, Karisma has had her share of ups and downs. Whether it was her romping in skimpy swimsuits in her introductory film, her unconventional looks, her sexy-sexy dances, her hip-shaking to the vulgar beats of Sarkailo khatiya, the blue-eyed actress has faced a lot of flak.
The Programme
* For the mehendi party on Sunday, Karisma and Kareena will wear lehengas while mother Babita will wear a salwar-kameez.
* For the wedding, Karisma will wear a soft-coloured ensemble, probably off-white, because the wedding is a day affair.
* The bridal jewellery set for the marriage ceremony is entirely made up of diamonds.
* Karisma will wear gold sandals encrusted with diamonds.
* The RK cottage is being decorated with mirrors and mogras. The guests will then have lunch on the spacious lawns of the house.
* The cuisine will be Thai, Italian, North Indian and Mughlai.
* There is no confirmation yet whether there will be a reception. And except for the mehendi and the wedding, no other functions have been announced.
* The wedding invite is in the form of a letter from the bride's parents, Randhir and Babita, and grandmother Krishna Raj Kapoor. The stationery is cream paper and fitted with rudraksha beads.
* Sunjay Kapur's outfit will be designed by Rohit Bal.
The wedding menu
Jayant Kishore Paul, executive chef of Mumbai's five-star Sun 'n' Sand hotel is too happy to be part of Karisma Kapoor's wedding celebrations. Paul is in charge of the lunch that will be served on September 29 at Karisma's wedding.
The Kapoors are known to be great lovers of food, so the elaborate wedding spread hardly comes as a surprise. The lunch will include a variety of cuisines like Oriental, Thai, Chinese, Italian, French and Continental. It will also include Indian food, which again includes Punjabi, Gujarati and Rajasthani cuisines.
The wedding ceremony starts at . At the ceremony, guests will be served refreshments like Khus Sharbat, Lime Refreshers, Thandai and Fresh Coconut Water and vegetarian snacks like Assorted Vegetarian Canap? Vol-au-Vents and Shitake Mushroom Frittata.
After the ceremony, at around , mocktails like Pina Colada, Fruit Punch, different flavoured Iced Teas and vegetarian and non-vegetarian snacks will be offered. Some of these snacks include Cheese Fondue, Pudina Paneer Tikka, Corn Kachoris, Tandoori Stuffed Mushroom, Sesame Prawns with Schezuan Dip, Murg Kali Mirch Tikka and Mutton Sheekh Kabab Lucknowi.
At around this time, the spirits will also start flowing. "We had earlier catered for Karisma's uncle, Rajeev Kapoor's wedding," Paul says. "There were plenty of beverages. You name it and it was there. It will be the same at Karisma's wedding as well."
The buffet lunch will include salads like American Corn and Pasta Salad, Cottage Cheese Romano, Saxon Salad, Thai Raw Papaya Salad, Prawn Cocktail, Seafood Mayonnaise and Insalatta di Marie and cold cuts like Glazed Ham, Smoked Turkey and Italian Farmers Salami.
Karisma, who loves Italian food, will have a wide variety of pastas to choose from. The lunch will also include Stuffed Chilla, Dry Fruit Bhel, Rajasthani Panch Mela, Gujarati Daal, Dum Handi Vegetarian Biryani, Dal-e-Khaas, Nalli Nihari, Sikandari Raan, Murg Shiraz, Dum Gosht Biryani and much more.
Paul will make some of the special dishes like Lobster Thermidor, Fish La Paz, Stuffed Chicken in Tarragon Sauce and Baked Crabs himself. The desserts include Philadelphia Cheesecake, Malpua, Badam Halwa, Sitafal Angoori Rabri, a Crepes Counter, fresh fruits and Blueberry Cheesecake. Paul says, "The Kapoors did not have to sample the food first. They are regulars at this hotel and know the kind of food we serve."
Besides the Kapoors, Sun 'n' Sand is 'second home' to a few Bollywood celebrities like the Bachchans, the Roshans, Ajay Devgan, even the bride's sister, Kareena Kapoor. "In fact, Akshay Kumar and Twinkle were here the other day," says Paul.
Paul is pulling out all stops for the wedding and getting the best ingredients from all over the world. "We will get the olives and basil from Italy and the cheese from France and Switzerland," he says.
Approximately 60 chefs will be required for the wedding preparations, which will start on Sunday night itself. Since Karisma is having a 'small' wedding, they will cater to around500-700 guests.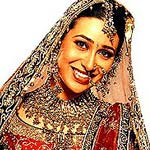 Menu The Kapoors emphasised on Food
In Kapoor family functions, there are not more than six dishes served. But this time, keeping Navratri in mind, papa Randhir Kapoor has arranged for cuisines varying from North Indian, Continental, Thai,Italian,Chinese to Mughlai prepared by chefs Ishtiaque Qureshi and Jayant Paul of Sun N Sand hotel.
The Kapoor khaandaan, known for its large appetite will have 20 seafood dishes and the same number of lamb and chicken dishes, along with mutton and chicken biryani.
Altogether, there were 126 dishes including:-
20 of tandoori non-vegetarian kebabs
20 seafood dishes
20 lamb and chicken dishes along with mutton and chicken biryani
20 vegetarian dishes (considering the current Navratri season)
Some dishes from the menu: Italian Pasta, Swiss cheese, French bread, Thai curry and Chinese bird nest soup.
Bar Brigade
Atleast 70 types of drinks, including wines, vodkas, cocktails and gins (though only after the wedding ends at around )
Lolo busy with wedding arrangements
While Karisma is busy with arrangements for her wedding which will take place on September 29, sister Kareena is still shooting for her film Chameli, now being directed by Sudhir Mishra of Is Raat Ki Subah Nahin and Calcutta Mail fame.
With Karisma being inaccessible to the press, Kareena reveals that Lolo is spending as much as eight hours each day at the famous RK Cottage personally supervising the arrangements for the wedding. On September 21, on Kareena's birthday, the sisters went off to Jaipur for three days to celebrate Bebo's birthday and to bond with each other before elder sister gets married. Now Bebo is back at her shoot, while Karisma is trying out her clothes before the wedding.
No celebrations in Bandra, say residents
The watchman at Grand Bay, Karisma Kapoors building on Hill Road, says that the family (they live on the 13th floor) had decorated the terrace and had planned to start the celebrations there, but later decided to shift the venue to Chembur.

They took down the bamboo poles after they decided to hold the festivities in Chembur, he says.

Meanwhile members of the building at the crossroads of 16th Road and 29th Road, where Karisma has bought a flat are nonplussed about the Kapoor khandan celebrations.

The family is not holding any celebrations here. Karisma just comes here to use the gym she has set up in her flat, says a resident of the Park Avenue building.
The wedding Ceremony
The wedding ceremony, which was supposed to have begun at was delayed to as the groom, Sanjay Kapur was stuck on the way thanks to Mumbai's traffic. The scene outside the venue is quite crowded with Journalists, camera crews and curious onlookers hoping to get a glimpse of their favourite stars. Also seen were a hoard of policemen controlling this crowd. Because of the crowds, no member of the R K family was present at the gates to welcome the groom and his family.

The bridegroom

Sunjay Kapoor
The Bridegroom
Sunjay Kapur - is the Managing Director of Sona Koya Steering, part of the Sona Group which his father Surinder Kapur runs. Their late grandfather Raunaq Singh set up the Apollo Tyres Empire.
Venue
The Kapoor's exclusive domain at Chembur R.K.Studio
Time
IST
Religious ceremony
Conducted as per the Sikh rites.
Costumes Manish Malhotra

karisma Kapoor
Designer: Manish Malhotra
Karisma will wear a subtle -coloured ensemble, probably off-white, embellished with chikan-work, sequins and kota work.
Jewelry set: entirely made up of diamonds.
Footwear: Gold sandals encrusted with diamonds.
Sunjay Kapur
Designer: Rohit Bal.
Sanjay will wear a cream sherwani.
Invitation Card

The invitation was in the form of a letter from the bride's parents and grandmother Krishna Raj Kapoor, signed by Randhir Kapoor. The stationery was cream paper and fitted with Rudraksha beads.
Guests
Ritu Nanda, Karisma's aunt and Shweta Bachchan's mother-in-law, Uncle Rishi Kapoor, Granduncle Shashi Kapoor, Designer Manish Malhotra, Actor Sanjay Kapoor (who will reportedly play the brother's part at the ceremony)
Karisma's co-stars Govinda, Rahul Khanna and Akshaye Khanna, Salman Khan, Vivek Oberoi, Govinda, Rajesh Khanna, Rakesh Roshan,Vinod Khanna, Jeetendra, Govinda, Amrish Puri, Rahul and Akshaye Khanna, Simi Garewal, Sooraj Barjatiya, Akshay Kumar, Twinkle Khanna, Jackie Shroff, Satish Kaushik, Sridevi and Boney Kapoor, Yash and Pamela Chopra, Anand and Anuradha Mahindra, Raja and Queenie Dhodhy, Zarine Khan and Farah Khan, J P Dutta and Bindiya Goswami, Kumar Gaurav, Atul Agnihotri... there were stars everywhere.


Among the early birds on the guest list were Bharat Shah, Smita Thackery, Subhash Ghai and wife Rehana, ex-cricketer Azharuddin and Sangeeta Bijlani and Bunty Walia all of whom were ushered into the venue even as a crowd congregated outside.

And around 600 others.

Also seen were Union minister Vijay Goel, Rajya Sabha MP Rajiv Shukla, deputy chief minister Chhagan Bhujbal with nephew Samir, Subbirami Reddy, city elite Godrej heir Tania, Bina Ramani, Mahesh and Haseena Jethmalani. Toyotas vied for parking space with Mercs as the big daddies of Bollywood arrived on the scene. Even heavy rains failed to put a dampener on the big day.



Among the absentees were Goldie Behl & Sonali Bendre, Shweta and Nikhil Nanda, Vicky Nihalani, Shah Rukh Khan, Ajay Devgan and the Bachchans and several Bachchan loyalists such as the Ambanis, Johars, and Amar Singh to name only a few stayed away from the celebration.

Ridhima absent at Lolo's wedding

Grapevine is that star couple Neetu Singh and Rishi Kapoor's daughter Ridhima Kapoor was absent for cousin Karishma's wedding, which happened on September 29, 2003. Sources inform us that she is very close to Swetha Nanda (nee Bachchan). Swetha, Abhishek's sister, is married to Nikhil Nanda who happens to be Karishma's cousin.

The anticipation and action, of course, had built up much earlier. Only friends and family were invited to this 800-invitee wedding. But this didnt prevent all roads from leading to RK Studios, not only on Monday morning, but from Sunday evening onwards.
Honey Moon

Tuesday, 30 Sep 2003
Its going to be a European honeymoon for Karisma Kapoor, who married Delhi businessman Sunjay Kapur yesterday.

Today evening, the couple leaves for Italy, then on to Spain and other European countries. Also on the the agenda of the fortnight-long trip is a three-day cruise in the Mediterranean Sea.


A day after her wedding, Karisma and Sunjay Kapur were invited by Babita Kapoor to her residence (as is customary) for an elaborate lunch spread. Last night, the couple took off on their honeymoon to Italy on an Alitalia flight. They are likely to take off to other European countries from Italy and return in another 3-4 weeks.
Enter content here



Family
The Kapoor clan, in white kurta-pyjma, stood at the wrought-iron gate of the Deonar residence to welcome the guests were Karismas father Randhir, and uncle Rajiv Kapoor. Karisma's grand uncle, Shashi Kapoor, donning a light pink turban, along with the bride's uncle, Chimpu Kapoor welcomed the invitees at the function. Further inside was grandmother Krishna Raj Kapoor, looking regal in a gold brocade sari and mother of the bride, Babita, who wore a peach and silver salwar kameez.
Karishma On her Wedding Day
But no star was as bright as Karisma herself. Indeed, it was the day of the bride. Dressed in a fully embroidered rose pink lehenga designed by Manish Malhotra, and heavy jewellery, the dulhan was brought to the venue by best friend and sister-in-law Mandira Kapoor and younger sister Kareena, looking resplendent in a green and pink lehenga choli.
Quite at her blushing best, Karisma was seen clutching Mandiras hand tightly, her eyes full of emotion as she walked towards the mandap. Dulha Sunjay, dressed in a Rohit Bal-designed white churidar-sherwani, a golden turban and a chain of gold coins around his neck, came in a car, along with his parents.
Media
The entire event was being kept out of the glare of the media, as per the wishes of the bride. Private security guards manned the gates decorated with fresh jasmine flowers and roses to prevent media-persons from entering the venue.
Public
Cars, buses and other vehicles were brought to a grinding halt in front of the Kapoor residence as fans thronged the residence and spilled over the street to have a glimpse of the celebrities attending one of the most glamourous weddings in recent times.
Cameras
It was utter chaos, said a reporter with a Hindi channel, Each channel had deployed about three cameras one for wedding ceremony at Raj Kapoors bungalow, one for the reception at R.K. Studio and one roving camera for the flying celebrity or the star-struck passers-by.
He said since the electronic media was kept out of the wedding, the crew camped outside the wedding venues and caused traffic jams. Even the groom got late, caught hopelessly in a road snarl.
The cameramen even had an angry exchange with the police near the Kapoor house because the constables and officers were trying to stop them, the television reporter said. In short, gatecrashing was fun for the media, notwithstanding its competitive ferocity.
Lolo before the wedding
In the morning, Karisma herself appeared in jeans and T-shirt, screaming at somebody you would guess was the caterer, kitchen patches carelessly streaked across her trousers. Just the image that parched TV crews would expect from a seasoned method actor.
Delhi
ka Dulha
A few minutes later, another channel declared that the Delhi ka Dulha and his wedding party were still nowhere in sight. The Mercedes drama thickened as the media was split into half about the colour of the car.
While some went on air claiming it was a rust-coloured Merc, it later turned out to be white.
Baraat
As the muharrat closed in, the anchor of a vernacular news channel announced at that the baraat had arrived. When asked which car the groom was travelling in, he confidently said, Mercedes, of course.
Ceremony
The marriage ceremony, which started at once the baarat arrived in a cavalcade of cars and buses, lasted for an hour. Actor Sanjay Kapoor, who has been like a brother to Karisma, led her through the four pheras with hubby Sunjay.
Bidaai
The bidaai took place at But the marriage wont mark Karismas bidaai from films. Lolo will continue doing films, besides her serial, Karishma The Miracles Of Destiny.
Friday October 10,
Karisma: Global limelight
If you thought that it was only the Indian media that devoted pages to the Karisma and Sanjay Kapoor wedding then you do need to think again because the marriage of the year was a much-discussed topic even in the UK media. The Times London dedicated half-a-page to Karisma Kapoor's marriage giving out full details about the venue, the menu and the groom. It also mentioned about her broken engagement with Abhishek Bahchchan. The reason why the engagement was called off, it stated, was that Karisma Kapoor's mother Babita did not want her daughter to get married to someone who had not yet achieved stardom. Looks like Karisma Kapoor is quite favorite among the Britons!