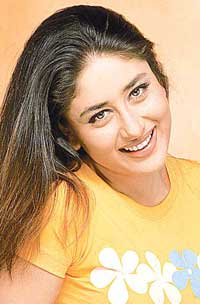 AN INDULGENT FAMILY: Almost the entire Kapoor Khandaan was there at the show of Ajnabee, KAREENA KAPOORs forthcoming release, last week. Among those who turned up at Famous Theatre, Mumbai for the show were Rishi, Randhir, their mother Krishna, Neetu Singh and the director duo, Abbas-Mustan.
Daddy Dearest...
When it comes to family ties and bonds, the Kapoors rank number one. Karisma has always stood by Kareena. And so has Kareena by Karisma. Though their parents have separated, Karisma and Kareena hold a special bond with dad Randhir Kapoor and mama Babita. Recently Kareena cancelled her outdoor shoot to Canada because father Randhir Kapoor was not well. He will soon undergo a bypass surgery in Delhi. She preferred to be at home to nurse him till he felt better. Kareena certainly deserves praises for this one!
Kareena Kapoor: The fan

Now this should turn other actresses green with envy! A die hard Kareena Kapoor fan presented the actress with a 2 carat diamond ring. The next day he gifted her a diamond pendant. The third day he presented with the latest cellular handset. The fan has his room plastered with photographs and posters of Kareena Kapoor. When asked what would she do with gifts Kareena said, "I will treasure them for life and when I'm dying they will remind me that life was worth living," she said. Well, only if all the stars had one fan like Kareena's life would be worth living, what say!
'Kareena is the female Raj Kapoor'
Kareena Kapoor: Hot Property

Better late than never they say! Thankfully Kareena Kapoor has realized that! Yes, she has cut her price drastically. Kareena has finally learnt that if she wants to do good films with talented directors she needs to do something about her sky-high price. She has cut it down to size. Insiders have it that she has agreed to do Govind Nilhanis Dev and Mani Rathnams film for peanuts. As for directors like Karan Johar she refused to cut her price because they can afford to pay! How true! How true!
Kareena Kapoor in Rituparno's film
Bebo says no more babe roles

She was born with filmi genes. Shes always had the look. Now, Kareena Kapoor aka Bebo has added a newfound commitment to her Bollywood resume. Even as fans cheer her on the sets of the Dharmesh Darshan-directed Bewafa , the cynosure of all eyes works at delivering the perfect shot.

I play the title role in Bewafa , which involves two sisters and how one of them copes with memories of the past and present challenges after the other dies, says Kareena. Also tucked under her belt are Yuva, Chameli, Dev, Fida, Bajirao Mastani and Milenge Milenge . The list of films is as long as her roles in them are varied. I have taken a conscious decision to be choosy about my films, she points out.

Beyond the world of lights, cameras and action, Kareena loves going out for dinner and to the movies with friends, or simply staying at home. Home, of course, has never been the same again since her sister Karisma tied the knot. I feel her absence because she has always supported me. I am so happy that she has found true love.

A rapid rewind of her career chart reveals that Kareena is slowly, but surely, diversifying as an actress. I want to be different and am working towards this. I have done enough of teeny-bopper roles. A new Kareena ? I have grown up. I have changed as a person and the attitude of people towards me has changed. It has taken time, but people understand me now. ( Can Kareena do serious roles? )

What Kareena understands is that there is no substitute for hard work in the film industry. In fact, I havent slept for more than four hours a day over the past nine months. If I start looking bad, it will be due to work and not because of late-night parties!
Shahid is hot property: Kareena

MUMBAI: From playing the spoilt college brat to the fresh new face of realistic cinema, Bollywood's hip young star Kareena Kapoor is going places even if she says she just can't help being glamorous.

In an interview, she talks about her exciting new projects and life after sister Karisma's wedding.

You played a prostitute in Chameli . Was that difficult? Unreal roles are tough. But one gets used to doing the unbelievable. Chameli was tough because it was real. I kept one fact in mind when I played Chameli . That sex workers are essentially no different from any other professionals, except for the fact that they're comfortable selling their bodies.

Unlike other prostitutes in films like Mausam or Pretty Woman , this one is real without being flamboyant about her authenticity. This is the most realistic film I've done.

I've two releases in December. And though I'm extremely proud of being part of J P Dutta's LoC , it's Chameli which I feel will project me in a very different light. It's being released on December 26.

People believe the minute you come in, a film cannot be realistic because you're too glamorous? I can't help being glamorous. In fact, I take that as a compliment. I've tried to do my level best. And I am sure my performance will be liked.

The streetwalkers in Mumbai now dress up as Kareena Kapoor, so what does Kareena dress up like when playing one? laughs) A red sari with a purple border designed by Manish Malhotra. I don't know why some other designer is being mentioned. I've never, in my entire career, worked with any other designer except Manish. So now everyone knows how loyal I am to the people I interact with.

Your other assignments aren't the authentic kind. Oh there's Govind Nihalani's Dev . He doesn't want me to talk about the theme. But it's a very topical film. I play a Muslim girl. I also have a very realistic role in Mani Rathnam's Yuva where again Manish Malhotra has given me a very realistic look. I wish I could've done Rituparno Ghosh's Raincoat . But my dates clashed with Dev and Chameli . I'm glad I'm playing everything from a prostitute in Chameli to a housewife in Bewafaa .

The hardcore commercial assignments include Abbas-Mustan's Aitraaz with Akshay Kumar, Ken Ghosh's untitled film with Shahid Kapoor... Then there's Boney Kapoor's film again with Shahid, where I'll be directed by Satish Kaushik again after my only big hit Mujhe Kucch Kehna Hai ... It feels strange saying that. Because it doesn't feel that way. I guess K3G and Ajnabee could also be counted among my successes. I've another film with Suneel Darshan with Shahid Kapoor.

Why two films with Shahid Kapoor? It's just a coincidence. He's talented and the youngest hero in the film fraternity. So he's hot property. I guess I'm one of the leading ladies young enough to work with him. I barely know him. We haven't started working together. Let me know him better. But I feel we'll look good together.

What was Karisma's wedding like? Oh super! We never expected such an overwhelming turnout. After what we three have gone through recently I feel as strong as a man. I was a pillar of strength for Karisma in her painful months before marriage. Now that Lolo is in Delhi, I feel doubly responsible towards my mom. She has given up so much to be a perfect mother.

Do you miss having your sister at home? Not really. Karisma and I have been working girls for years. Even when she's in Delhi I'm on the phone interacting 10 times a day with her, just like I used to. So it doesn't feel any different. I feel it's different for my mom. She misses Karisma a lot. I'm trying to make up for her absence at home. But my mom is very understanding. She knows these are the best years of my life and I need to work. She always wanted this kind of a career for me. She would be the last person to tell me to stay home just keep her company.

Are you against marrying an actor? As a child, I used to tell my mom I wanted to marry a film star. Now that I'm one, it doesn't matter. It requires a bit of guts and lots of patience to stay married to an actor when he's interacting with gorgeous co-stars all the time. I hope I'm gorgeous enough to keep my husband interested in me, ha ha.
Ash-Vivek's passe, Kapoors are in

Ash-Vivek is boring and Bipasha-John is yesterday's news. That two talented Kapoors could be the next hot item comes as a breath of fresh air for moviegoers whose Dil Maange More.

With so much of cloying sweetness in the air with the Aishwarya-Vivek brand of romance, it came as welcome news that Ishq Vishq Shahid Kapur is dating the kool Kareena . And what's more, they shall be seen soon on-screen in Ken Ghosh's next, Junoon . Also in Boney Kapoor's Milenge Milenge to be directed by Satish Kaushik and another film.

The stars themselves have hotly denied the link-up. But many 'good friends' end up lovers in the tinsel town , often the very denials confirm rumours. And if indeed the two are not yet an item, then it is advisable that they should actively consider it.

In their early twenties, the two are the youngest around and if the jodi strikes gold it could mean a long run together. The pedigree is impeccable too. If Kareena's Kapoor comes from the first family of filmdom, Shahid comes from one of the finest though under-rated actors of his day - Pankaj Kapur of the carrot-chewing Karamchand fame.

The chocolate-faced Shahid, who looks as though he's yet to have his first serious brush with facial hair, carried one of the year's winners solely on his young shoulders. Ishq Vishq , his debut vehicle worked only on his performance as an impressionable youngster with the one mission to bed a girl. He wooed, cavorted, danced, sulked and made up with such ease, he was heralded as the next wonder in a film industry fast running out of that variety.

Kareena is already on the way to reinventing herself from the insufferable Poo of Kabhie Khushi Kabhi Gham and the innumerable clones she played in the many disasters that followed. She is picking great roles, but Kareena, everyone's favourite, is yet to really hit bulls eye at the box office. Off-screen chemistry makes for the best on-screen sizzle and that has been lacking.

Her first co-star Abhishek Bachchan was ruled out immediately as he was then dating elder sister Karishma and by the time that story had ended the real life vibes were too cold. Hrithik, her should-have-been debut co-star was a distinct possibility, and Kareena has been soft on the Roshan after all, but Subhash Ghai's yawn Yaadein put paid to that. Despite the fact that they look good together, in Main Prem ki Diwani Hoon Hrithik and Kareena even managed to do what no one had done before - make a Sooraj Barjatiya opus sink. There is always Fardeen Khan, but little Khushi there too.

And, Bollywood urgently needs a spunky pair. Kareena has the chutzpah and so does Shahid. The good, giggly girl routine of Aishwarya Rai coupled with the hangdog expression that the otherwise extremely talented Vivek Oberoi insists on wearing anywhere around the green-eyed beauty are becoming a little tedious. How many times will fans keep count of their many injuries and recuperations together? The Coke ad was rather thanda, let's see if Subhash Ghai can create some Rai-Oberoi magic.

Bipasha Basu and John Abraham are still hot - one, Jism can go a long way in keeping things ardent. But there is also word that the two are planning to get hitched, and that minor fact could pour a lot of cold water on the fire. Domesticity has a way of quelling the most intense chemistry after all.

So here's looking at the Kapoors. It could, after all, be all in the name. Remember Karishma picked a Kapur too!
Enter subhead content here