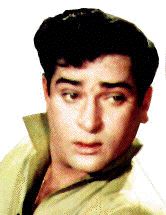 Click to view more pics
SHAMSHERAJ KAPOOR
(1931 - )
Memorable Films

Shama Parwana (1954)
Hum Sab Chor Hain (1956)
Tumsa Nahin Dekha (1957)
Mujrim (1958)
Dil Deke Dekho (1959)
Ujala (1959)
Basant (1960)
Singapore (1960)
Boyfriend (1961)
Junglee (1961)
China Town (1962)
Dil Tera Deewana (1962)
Professor (1962)
Wallah Kya Baat Hai (1962)
Bluff Master (1963)
Kashmir Ki Kali (1964)
Rajkumar (1964)
Jaanwar (1965)
Badtameez (1966)
Teesri Manzil (1966)
An Evening in Paris (1967)
Brahmachari (1968)
Prince (1969)
Tumse Achha Kaun Hai (1969)
Pagla Kahin Ka (1970)
Andaaz (1971)
Zameer (1975)
Parvarish (1977)
Prem Rog (1982)
Vidhaata (1982)
Betaab (1983)Hero (1983)
This is my real name. Shammi Kapoor is my pet name and I, son of Prithviraj Kapoor, was born on the 21st October 1931, in Bombay. I studied at the New Era School from where I did my Matric. After a short and sweet stay at the Ruia college, I joined my father on the stage in his theatrical company "Prithvi Theatres" as a junior artiste in 1948 on a salary of Rs.50/ per month. I stayed with the theatre till 1952, my last paycheck being Rs.300/.
I signed up as a hero with the Kardar film company, under the direction of Mr. Mahesh Kaul and the film was "Jeevan Jyoti". My first heroine was Chand Usmani.
During the early years, 1952 to 1955, I acted in the following films: "Rail ka Dibba" with Madhubala. "Laila Majnu" with Nutan. "Thokar" with Shyama. "Shama Parvana" with Suraiya. "Hum Sab Chor Hain" with Nalini Jaiwant. Sahil, Tangewali, Shaheed Bhagat Singh, Miss Coca Cola, Mohar, Rangeen Raten, Gul Sanobar, Daku, Coffee House, Naqab, Mirza Sahiban, Chor Bazaar, Sipah Salar and some more nondescript films followed, I remained a male starlet.
I got married in 1955 to the famous film heroine, Geeta Bali. She was an accomplished actress and had established herself as a Star. In 1956 our son Aditya Raj was born.
My first big success came with Tumsa Nahin Dekha which was released in 1957. Between 1957 and 1959 I acted in Dil Deke Dekho, Mujrim, Ujala, Singapore, College Girl, Boy Friend, Basant, Preet Na Jane Reet.
My first COLOR picture Junglee, was released in 1961 and I became a Star. The same year my daughter Kanchan was born.
Between 1960 & 1964 I acted in Professor, China Town, Char Dil Char Rahen, Raat ke Raahi, Dil Tera Diwana, Pyar Kiya To Darna Kya, China Town, Kashmir Ki Kali, Bluff Master, Janwar, Rajkumar.
In 1965 my wife expired.
From 1966 onwards my releases were Teesri Manzil, Budtameez, Laat Saheb, An Evening In Paris, Tumse Achha Kaun Hai, Jawan Mohabbat, Prince, Brahmachari, Pagla Kahin Ka, Andaaz, Sachai, Pritam, Chote Sarkar, Jaane Anjaane.
I got the 1968 Filmfare Award for the best actor for my film Brahmchari.
In 1969 I married Neila Devi of Bhavanagar.
In 1972 my parents expired.
I ventured into a different field of Film Direction for the first time with a film called Manoranjan, adapted from a french play, Irma La Douce (also made by Billy Wilder into a hilarious movie in '62), which starred Sanjeev Kumar and Zeenat Aman. This was an incredible experience but the film met with mediocre success. This was followed by a film with Rajesh Khanna and Sulakshna Pandit called Bundalbaaz. The end result at the box office was miserable.
After this I began doing character roles and some of these are: Zameer, Prem Rog, Hero, Meera, Harjai, Yeh Vada Raha, Aan aur Shaan, Betaab, Ahista Ahista, Parvarish, Daata, Wanted, Rocky , Romance, Mama Bhanja, Ek Jaan Hain Hum, Shalimar, Armaan, Badal, Karmdata, Sohni Mahiwal, Ek se Bhale Do, Biwi O Biwi, Salaakhen, Professor Pyarelal, Ehsaas, Allah Rakha, Desh Premee, Bade Ghar Ki Bahu, Balidaan, Himmat aur Mehnat, Mast Kalander, Ijjazat, Batwaara, Hakumat, Ajooba. I had the opportunity to do some films in other languages such as Bengali and Tamil as well.
In 1982 I got the Filmfare Award for Best Supporting Actor in Vidhaata.
For a short period of time I produced my own Video Entertainment Magazine called "Shammi Kapoor presents Manoranjan". Six volumes have been already released and then I stopped because there were too many people doing the same thing.
In 1995 I got the Filmfare Lifetime Acheivement Award.
My recent releases have been: Khule Aam, Lakshman Rekha, Hum Shakal, Tehelka, Chamatkar, Heer Ranjha, Gardish, Pyar Ka Rog, Megha, Dosti Ki Saugandh, Aaja Meri Jaan and a couple of South films. My latest release is a film called Prem Granth which is directed by my brother late Raj Kapoor's youngest son, Rajiv Kapoor. I am also doing some serials for the TV, the most enduring being a social melodrama called "Chattaan". It ran for more than a year on the Zee Channel.
My most recent films were "Aur Pyar Ho Gaya" with Bobby Deol and Ashwairya Rai and a cameo I did again with Bobby Deol in "Kareeb" which surprised many because they did not expect me to do what I did in the movie. But then that is exactly why I did it. At the moment I am playing Salman Khan's grandfather in a film called "Jaanam Samjha Karo".
My foremost activity is still surfing on the Internet.
Sometimes I wonder what is it that drives people to do first things first assoon as you are in a position to do so. What areone's priorities? It could have been a pair of shirts or pants or shoes or watches, a radio or record player, a gift for someone near and dear. No. It had to be a car. My own car.I started driving my father's car, an "Opel" when I used to go to school. Before that there was a period when a few of us friends at College road, where I stayed, used to help one Mr. Mani in pushing his small Austin car to start it. Then one day unknown to him we started to push it around with one of us at the steering to keep in practice, and ultimately when I jumped into the driver's seat, I fixed some ignition wires got it started. The rest jumped in and we took a short drive. We got away with this routine a couple of times till we were apprehended one day by Mani and got the firing of our lives.
Once while going to school I started my brother's car, a Ford, and before my servant, Dwarka, could get in and close the door, I took off. The result was disasterous. The open door crashed against the lamp post and got wrenched off. The noise brought my brother and parents to the balcony and before anything could be said I was out of hearing range, heading for the nearest bus stop.
After signing my first film "Jeewan Jyoti", I went around like a sire for hire. Also, I wanted to buy a car. I got advice from various sources, including my producer Mr. A.R. Kardar who had a number of cars including a Cadillac. He strongly advised me to: Always buy a brand new car; not a second hand one; and buy a Chevy or a Pontiac, both beauties, which he could arrange for me on Hire purchase. I took no notice of his advise on either points.
I had seen the beauty I wanted:
" It was a skyblue colored, convertible; Buick Super; second hand. It belonged to then film actress Nigar Sultana, who wanted to sell it and it was on display at the Car Mart, at Hughes road. My friend and first producer, Aspi Irani, who I was signed with but had no picture on the floor, knew the owner of Car Mart, Mr. Chunnawala and so off we went to meet and negotiate for the car. He agreed to a pricetag of Rs. 16,500/-, to be paid on a monthly basis Hire purchase for 24 months. The down payment of Rs. 5000/- was to be paid by Aspi. For the next 2 years I paid Rs. 650/- every month almost regularly. It was on the 12th of June, 1952 that I got my Buick. It's registration number was BMY 3009.
Subsequently in my life span as a Film Star, I had a number of different cars; a Desoto followed by a Chevy Belair, a Chevy Impala, a Chevy Intercontinental convertible, a Ford Thunderbird, a Sunbeam Alpine, a Triumph, a Malibu some foreign and Indian Fiats and a number of Jeeps for my Shikar. But to this day the one and only beauty which has always remained dear to me in both my memory and my heart is, the BUICK BMY 3009.
SHIKAR ADVENTURES
I have always had this gut feeling for an outdoor related activity, be it hiking or camping boy scout style or hunting. The basis of my fondness for this sport comes from the fact that the environment in which I grew up comprised of a western influence, where it was customary of the elders to boast of their hunting prowess over a Chota peg. I have always been a keen reader and Jim Corbett and Keneth Anderson certainly helped in dreaming of animals and the wilderness and the dangers.
My first weapon was a BSA Air Gun presented to me by the Maharanee of Jodhpur, where we had been performing with Prithvi Theatres. Her sons used to take me along on duck shoots and Black Buck hunting and that is where it all started from. I remember the feeling of travelling with them in their convertible Rolls Royce, custom made for shikar, chasing the herds of Black Bucks. I received my first lesson in the do's and don'ts of Shikar from Col. Mohan Singh, who was the ADC to the Maharajah and in charge of the shoot, when I shot my first partridge with a 20 bore double barrel and I dropped the gun and ran to pick up the partridge. I got the firing of my life. He said you do not throw your weapon, never. I never forgot that.
It was the excitment, the thrill; and that memory I carried with me for a long time till I grew up and bought my first two weapons; a .32 bore Webly Scott Revolver and a 12 bore Double Barrel gun by Wright & Sons; as soon as I was 21 years old (later I was to get a .375 Holland & Holland rifle, a 450-400 Purdy DBBL and a .370 Strech & co. over and under DBBL rifle along with a hornet .22 for small game and much later a .32 PPK Walther). I bought my first Jeep in 1956 and called it "Dinky". Why? I forget. But the next one I named "Yahoo" after I used this expression in my first superhit film "Tumsa Nahin Dekha".
I shot my first tiger in 1958 in Bhopal at the Barasia forest block along with my friend Nasir Husain's Uncle (Najma Hepthala's father) but never got to collect my trophy because the tiger after being hit, tumbled into a canyon over the hillside and by the time we were able to organize a group of people to go down after it the next day the vultures had already done their job and there was only the skeleton left. But that did not stop me.
I shot my second tiger with a close friend and comedienne actor Johnny Walker. He was going out for a shoot and wanted me to join him. I obliged and lady luck smiled at me. In big game hunting it is customary to select who gets to shoot first as the trophy belongs to him who draws first blood. So Johnny and I took turns on alternative days and fortunately for me, the night we spotted the tiger it was my turn. It was a huge male, measuring 10' 3" and there is a photo of how I looked the next morning with this beauty. My third tiger I shot in the Hills of Terai, a beautiful terrain of wild forest area at the foot of the Himalayas bordering the Nepal and India boundaries. It was after a kill had taken place. You tie up small bulls or goats in an area which is supposed to be tiger country and when he makes the kill he eats a little from it, then covers it up and takes a siesta before returning to the kill. This is usually discovered by our shikari scouts and then a Haka is organized. This is where you get to sit on a small hidden platform on some tree or behind a dense bush (which is very, very dangerous but people have done it) while the beaters make a lot of sound beating on their tin pots and whatever, driving the tiger towards the machan you are sitting on. It can be dangerous both for the shikari and the beaters. If the tiger spots the hunter first he is very quick, agile and strong. If he gets wounded he can turn back towards the beaters and this has happened a lot of times so one has to be very sure of both his guts and gun. There is a nice photo of this 10 footer before my skinner did his job on him.
It is not only the big game in the jungles that lures you. It is the peaceful, environment in its natural element, away from any civilization aroma to it. I have spent a number of christmas and new year celebrations with my friends and family in the jungles. There is no electricity in most of the Dak Bungalows in the forests and the sky is full of the stars you never get to see in the city. The winters are very cold so the campfire atmosphere is something you don't want to get away from. The local tribal scene blends beautifully with the local sounds or radio or tape music and potluck that is there for all to indulge in. Sometimes you just drive around in the forest for hours, looking at the different hues of color and shade among the trees and foliage along the streams running amok. There are days when you don't even use the gun to shoot with (except of course to bring something for the kitchen) and instead look through a camera. These are everlasting images embedded very deeply and I am going to share some with you.
"Matunga"
A Suburb of Bombay
Though I was born in Bombay I spent my childhood in Calcutta because my father had a career span of some seven years at the New Theatres Studios acting in films. I did my Monntessary and Kintergarden there.
In 1939 we shifted to Bombay. We stayed on the second floor of a big flat at college back road , Matunga. I studied in a coeducational school, St. Joseph's Convent, at Wadala, then the Don Bosco school for a year and eventually finished my schooling from New Era at Hughes road.
I grew up in an atmosphere of political upheaval. India was in the throes of unchaining itself from the shackles of British Sovereignity. But we, the youngsters, had freedom. We lived in surroundings that were conducive to an active, sporting life. Two playgrounds, one of Khalsa College and the other attached to the V.J.T.Institute. The famous Five Gardens behind the Custom's Quarters and the play grounds of Don Bosco, all a stone's throw from college back Road, better known as Hollywood Lane because it housed a good number of film personalities.
When we newly arrived here from Calcutta there were only Parsis, some South Indians, Sikhs and AngloIndians from the Customs quarters and a handfull of Gujaratis in the back lane. Yes, there were no Punjabis and definately no film folks. And then the Heavens openned up and the Kapoors landed. With them came the Saigals(K.L. and Mahender), the Sethis'(Jagdish and Sudershan),the Puris'(Chaman and Madan), the Nandas'(J.K.), the Biswases'(Anil and Ashalata), the Singhs'(K.N.), the Zakarias'(Jayant), the Jairajs'(P.), the Mazumdars' (Phani), the Peshawaris'(Bismil), the Aroras'(P.N.), the Devis'(Sitara).
God knows how many were in the proccess of stepping on the threshold of this slippery surface of celluloid, only He knew. How could any mortal fathom the resources of the Almighty. Who could foretell that from the terrains of College Back Road will emerge Dinosaurs that will take some time becoming extinct. Mr. Raj Kapoor. Mr. Shammi Kapoor, Mr Shashi Kapoor, Mr. Subiraj, Mr. Amjad Khan, Mr. Amrish Puri------to name the few that come to mind easily. There definitely must be a longer list because of the number of people who migrated to the Kapoor house after partition and who joined my father's "Prithvi Theatres". Yes it does inspire a thoughtful appraisal of what was happening to who, how, where, when, and why ? A suburb of Bombay called Matunga housed those pages which would bedeck the golden annals of Indian Motion Picture and one day rightfully step into the archives of International Cinema.
Later the college back road was renamed R.P.Masani Road.
Geeta Bali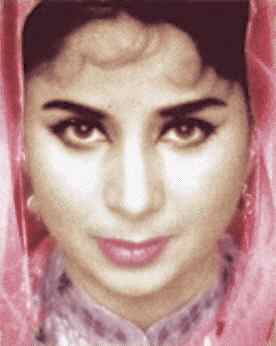 First wife of Shammi Kapoor
She was 24. I was 23. We were working together in a couple of movies at that time. She was past her prime, career wise. I was nowhere near it, likewise career wise. I was doing a film called "Rangeen Raaten" for Kedar Sharmaji. She was his protege. As we were going to be doing the outdoor stints of the movie at Ranikhet, an ancient Army based hill-station in the Kumaon region, she asked to be included in the Unit and hence got to do a cameo role in the film. We left on the 2nd April, 1955 for the location. It was destined.
We fell in love with the climate, the scenery, the hills and dales, the rustic hill folks and their music, the mornings, the evenings; and each other. We returned to Bombay on the 21st of April and could'nt live without each other. She had worked as the heroine opposite my brother, Raj Kapoor in "Bawren Nain", and had co-starred in a film "Anand Math" with my father, Prithviraj Kapoor. How would they react.
She was hesitant. I was adamant. It was four months of agony, tears, cajoling, pleading, non-togetherness, desperation and..
On the night of 23 August, we were together in my room at the Juhu Hotel, where I was staying because there was no one at home, my parents being out of Bombay on tour with Prithvi Theatres, and she said O.K. its now or never. Can we get married now. I asked her did she mean like right this moment and she said yes, tonight. I said we shall go and ask a common friend, Johnny Walker, who had only the previous week eloped with his girlfriend and got married. He was happy for us but could be of no help. "I am a Muslim you are Hindus, go to a temple and get married". That made sense. I went to my friend, Hari Walia, producer and director of "Coffee House" a film in which both Geeta and I were working. He had had a similiar experience. He took us to the Banganga Temples, a famous site near Napean Sea Road, Bombay, which houses some 92 ancient Temples. We went to a big temple where the Priest informed us that the Gods have now retired for the night and if we wished to get married we should come back early morning at 4 o'clock. So we went back to my parents house at Matunga, made my personal valet Hari cook a meal which we indulged in and then waited.
It was raining heavily as we arrived at the temple at 4.30 in the morning and with Hari Walia as the sole witness, the Pujari (priest) performed the ceremonial rites of Hindu marriage as we took the seven rounds around the holy fire and were declared husband and wife, at which Geeta took out a tube of lipstick from her purse and asked me to apply it on her maang (a hindu ritual which is performed by the wife applying a red powder on the parting of hair on her head as a mark of her marital status). We went home to my place at Matunga, took my Grandfather's blessings, rang up my parents who were out of town and informed them that I was a married man now and then went to her parents place to tell them of the best thing that had ever happened in the lives of two people in love.
On 9 January, 1965 she took ill. She died on 21 January, 1965.
Neila Devi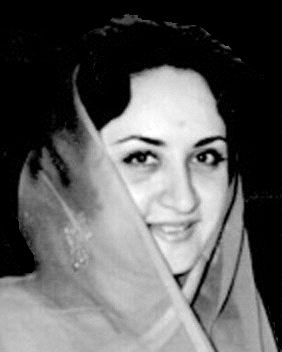 Second wife of Shammi Kapoor
I first saw him when-----I was 9, he was 19 and had come to Bhavanagar with his father's troupe to perfom on the stage. My family was in the auditorium watching Prithvi Theatres stageplay "Pathan" and along with my cousins I was allowed to watch from the wings on the stage. He came and pulled my pigtails, something which I have never forgotten. And that is how I became a fan of a person who one day was to become my husband.
The year was 1955, he had just married Geeta Bali, somebody I had always loved and respected both as a film person and a human being. I had once met her and taken her autograph which is still one of my proud possesions. They used to often pass by our house in Vile Parle in Bombay and I vividly remember waving out to them from my window. Being one of his greatest fans, I very keenly followed his career graph and I used to collect articles and photographs of his from newspapers and magazines which I still treasure.
He often came home to visit us as he was a good friend of my brother, but I knew better - it was mostly to share a bottle of whisky with my father who was a retired colonel and being the prohibition period, it was often my father who ended up producing the whisky. He would regale us with his stories of shikar and film shooting and various other escapades which kept the whole family enthralled while he walloped off the bottle.