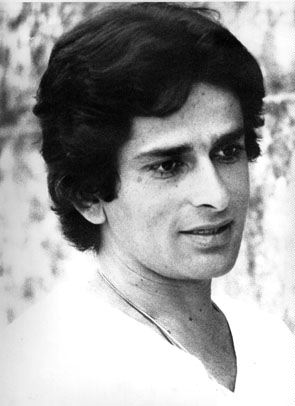 BALBIRAJ KAPOOR
The youngest of the Kapoor brothers, Shashi Kapoor; Balbirraj is his real name. He was born on 18 March, 1938 in Calcutta.
Shashi Kapoor Reflecting at random
This charming actor exuded grace. Shashi Kapoor's rakish good looks had the girls drooling, while his lopsided grin made them swoon. In a career that spanned a quarter century, Shashi Kapoor with his excellent acting capability and blue eyes, charmed one and all.

The youngest of the Kapoor brothers, Balbirraj was known by the name of Shashi Kapoor in the film industry. Born in Calcutta in 1938, Shashi, the third son of Prithviraj Kapoor, made his first screen appearance at the age of 12.

Remember that raincoat clad little boy in Raj Kapoor's song 'Pyar Hua Ikraar Hua'? He was none other than our very own Shashi Kapoor. As a child star, he even acted in mythological films like 'BHAKTA DHURVA' (1947) and 'MURLIWALA'(1951).
Shashi Kapoor always wanted to be an actor. He was greeted enthusiastically by the industry in the early 1960s. Beginning with 'CHAR DIWARI' (1961), he acted in many films. Most of the films were forgettable and his performances mediocre. At 27, he made his breakthrough with his first hit 'JAB JAB PHOOL KHILE' in 1965. Some of his films in this period include 'HASEENA MAAN JAYEGI', 'WAQT', 'MEHNDI LAGI MERE HAATH', 'AA GALE LAG JA', 'PYAR KA MAUSAM', 'CHOR MACHAYE SHOR' and SATYAM SHIVAM SUNDERAM.

His more successful phase as an actor, was as a co-star with Amitabh Bachchan in 'DEEWAR', 'DO AUR DO PAANCH', 'SILSILA', 'TRISHUL', 'KABHI KABHI'. He worked with most of the top heroines of that time like Sharmila Tagore, Neetu Singh, Zeenat Aman, Rekha, Rakhee, Nanda, Bindiya Goswami and Parveen Babi.

Yash Chopra's DEEWAR (1975) won him the Best Supporting Actor Award. Playing the soldier of truth, Shashi delivers the line "Mere paas maa hai," which went on to become one of the most famous dialogues in Hindi cinema.

He married an English theatre actress Jennifer Kendall and the anglicized actor made it to Indo-English films of Merchant-Ivory combine - Bombay Talkies. His Indo-English films include HOUSEHOLDER, HEAT & DUST and SIDDHARTHA, along with Conrad Rooks. This made him one of the most recognizable Indian actors in the West. Rooks' SIDDHARTHA was recondite and a little opaque, but fuelled by its bold scenes; it became a cultural landmark.

Shashi, however, diverted from acting to producing with the kind of films he wanted to beginning with Shyam Benegal's JUNOON, where he played with intensity and passion as a married nawab who risks all for his love who happens to be a English prisoner (Nafisa Ali).

And as the illegitimate son of a business family in his next film, Benegal's KALYUG;, he played down the angst of the marginalized. In the early 1980s, he produced VIJETA and cast his son Kunal as hero and himself as the father. He also bankrolled Aparna Sen's heart wrenching CHOWRINGHEE LANE with wife Jennifer in an unforgettable performance. Shashi played a supporting part in his Girish Karnad's production UTSAV.

He acted as a frustrated poet in 'IN CUSTODY'. Nevertheless, he won the National Award for his performance in 'NEW DELHI TIMES'. Shashi Kapoor even tried his hand at directing with AJOOBA, an Indo-Soviet production. But Shashi had perhaps misread certain shifts in public taste and the film was a total washout.

Yesteryears heart throb of the silver screen, Shashi Kapoor, is now a tough individual who lives by his own set of ethics and wit, and immensely content to rest on his laurels, having seen more, experienced more, been through it all due to his long association with the filmdom.
I vividly recollect the time when, as a six year old, I and my little friends used to sit in the back-stage of Prithvi Theatres and indulge in our innocent gossiping, at times creating a minor racket. Occasionally, when Papaji passed by us, he would rap us on our heads - thus we learnt our first lesson in professional discipline. It was, of course, only years later that I fully understood the term and realized its serious implications , which lead to growth and the feeling of discipline involvement.
The Theatre, with Papaji, was a passion that meant everything to him. He inspired everyone around him with a love for it. Styled after several theatre repertories in England, Prithvi Theatres was an actor manager troupe. In other words, its central player also owned and managed the whole show. Roughly, we had some 125 members, including the back-stage crew. We travelled all over the country staging shows from our repertory of eight full-length pieces. Prithvi Theatres was on the move for seven to eight months in a year, punctuated as it were by Papajis call to duty as a Member of Parliament. Whenever Panditji (Jawaharlal Nehru) assigned him a responsible task, Papaji would readily respond by accepting and executing it with his infectious zeal, whether it was a Good-Will Mission to China or something of similar nature. I must digress to add that though Panditji was Papajis friend, Papaji never took advantage of him by way of gaining Governmental favours for the furtherance of his Prithvi Theatres.
Whenever Papaji was away, Prithvi Theatres did not perform any show, as all the plays centred around his leading role. He had two under-studies in Ramesh Siagal and Premnath but somehow, performances without Papaji lacked the original punch and things did not work out satisfactorily. For sixteen years Prithvi Theatres extensively toured the country, and everyone of its members still retains found memories of the trips. We did not earn much, or even enough to sustain ourselves, but we had great fun with theatre as Papaji aptly put it. In 1960 Papaji lost his voice and that spelt disaster for the Theatre. Prithvi Theatres closed down abruptly. After an operation, his voice returned but was devoid of the original thunder.
Papaji was the greatest driving force behind Prithvi Theatres and also its in-built flow. He was the pivot of its every activity. Prithvi Theatres was a personification of his persistent love for the stage. Everything he had he gave to it, yet when people paid tribute to his unstinted contribution to Indian Theatre, he modestly maintained that it was insignificant. Thus the Hindi Filmworld gain from Prithvi Theatres defied imagination, (such talented artistes like Raj Kapoor, Shammi Kapoor, Sajjan, Premnath, Rajendranath, Ravindra Kapoor, Kamal
It is wrong to say that a theatre audience does not exist in India. it does. Only, it is still to be tapped professionally. The Bengali, Marathi and Tamil Theatres thrive because of provisional support. The IPTA, Naya Theatre and Dishantar are making noteworthy contributions towards the Hindi stage, but the potentiality of the both as an art form and a source of entertainment has not yet been thoroughly explored. Perhaps we lack in organisation or we need more dedicated workers with a lot of guts to boot. Again, it is incorrect to argue that Film and TV will sweep the Theatre off its feet in the ensuing years. Look at Europe, USA and other advanced countries where both TV and Cinema have developed to a saturation point. Theatre exists there gracefully vis-a-vis all forms of entertainment as a form of art.
With Shakespeareana, my Father-in-laws theatre troupe, I travelled nearly all over the world, and the response everywhere was heartening. Once I was in NY in connection with the release of Siddartha and wanted to see Mike Nichol's stage presentation of Uncle Vanya. But I had to get the tickets for it in the black market, and that too all the way from California. This fact, let me add, is true of Broadway, Off-Broadway and Off-off Broadway. Do you need any more assurance that the Theatre can sustain itself against the onslaught of Cinema and TV ? If the Theatre is to be made ever-lasting in India, I feel that we need many more devoted men like Prithviraj Kapoor, whose love for it had to be felt to be believed.
A DREAM FULFILLED
Prithviraj Kapoor's youngest son Shashi Kapoor, who had trained as an actor in the Prithvi Theatres, married Jennifer Kendal, daughter of Laura and Geoffrey Kendal, and the leading actress of their theatre company, Shakespearana. Both Shashi and Jennifer shared a deep passion for the theatre, and a great respect for Prithviraj's dream for Indian theatre.
A few years after his demise, when the lease of the land in Juhu ran out, they decided to buy the land and set up a Trust in Shri Prithviraj's memory with the intention of building a theatre to promote the performing arts. After studying the situation of theatre in the country, a need was felt for a unique theatre space - a space where the intimate and compelling actor / audience relationship, not unlike that of traditional Indian folk theatre, could be rediscovered. Attached to the theatre would be a cafe which would be a meeting place for artists and art lovers.
Shashi and Jennifer worked dedicatedly towards realising Prithviraj's dream, and on the 5th of November, 1978 the Prithvi Theatre, Bombay was inaugurated.
The Theatre's initial years were by no means easy. Until then Bombay had no auditorium which catered to Hindi theatre alone - Prithvi was the first of its kind. Furthermore, due to the growth and popularity of Hindi cinema there were few that appreciated Hindi theatre - audiences had to be wooed and cajoled to Prithvi, where amateurs strove to provide a healthy form of live entertainment. For its part, the Theatre sold tickets at a rate the audience could afford. At the same time, it provided professional assistance and up-to date technical facilities to performing companies, charging a rent of only Rs. 1 per ticket sold. In this way it managed to nurture and promote a number of theatre companies and an audience that benefited from a commitment to ensure access to all (except late comers!!).
The year 1983 was a turning point in the history of Prithvi Theatre - the Theatre had become a household NAME in Bombay and people assured us that the existence of "this little theatre" had played an important part in the development of dramatic talent and entertainment in the city. There were high expectations of the Prithvi Theatre to continue its support to theatre of the highest quality and shoulder the growth of a serious theatre movement.
But sustaining the Theatre financially was becoming more and more difficult; the combination of low rent and controlled ticket pricing were difficult to continue. The Trustees began looking for corporate patrons for the Theatre. They sought a relationship which was long term, and which did not infringe on Prithvi Theatre's unique identity as a small but independent Theatre. Fortunately, the Vazir Sultan Tobacco Co. showed a keen interest to tie-up with the Theatre, and recognising the role the Theatre had assumed in the world of entertainment; "Prithvi Theatre in association with VST", came into being. For equal billing with the Theatre, the company would subsidise the Theatre's running expenses and sponsor the annual Prithvi Theatre Festivals. This was an unique relationship where corporate patronage was intimately woven into and identified with the growth of a dynamic theatre movement.
Seventeen years after its inception, the Prithvi Theatre has attained the reputation of being a leading Theatre and cultural organisation, both in the country and abroad. Also, the Shri. Prithviraj Kapoor Memorial Trust and Research Foundation's activities have expanded in the last five years to include the following : the founding of the Prithvi Players, Prithvi's production company, a concentration of theatre activities for children, the founding of the Little Prithvi Players, a production company for children's theatre; establishing the Prithvi Gallery; a unique exhibition space for the contemporary art, seeking to generate a wider awareness and appreciation for the fine arts.
Actors and directors, working towards the resident repertory company under the auspices of the Prithvi Players, a centre for playwright's workshops, a theatre library and resource centre (print/video/film/audio), a larger gallery with more facilities, especially for larger works, a theatre in education scheme To Prithvi Theatre Internet India Home Page.
After the sad demise of Jennifer, the Prithvi is today maintained by Shashi's daughter, Sanjana Kapoor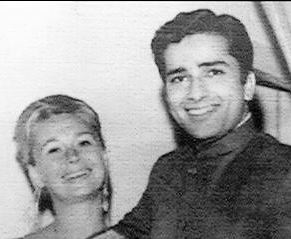 JENNIFER KAPOOR
Shashi Kapoor and Jennifer Kendall met in Calcutta while travelling with the Prithvi Theatre and Shakespeareana respectively and after a long and complicated, got married. They would have lilved happily ever after, had Jennifer not died of Cancer in 1984. Today Shashi lives with his memories & three talented. Children who are a living legacy of
Jennifer Kapoor.
Their closeness was a thing of beauty, of togetherness and then nothing. Twenty eight years must take some adjusting to. "But." says Shashi Kapoor, as he reviews life 13 years after wife Jennifer's passing away, "I sense her presence often. And the house, and everything in it, is just as it was when she was alive." How did the orient meet the occident in this case? Both Shashi and Jennifer were theatre people and it was their love for theatre that brought them together. Those were the days when the Prithvi Theatre, under Prithviraj Kapoor, was a thriving group. On the other hand, you had the Shakespeareana under Geoffrey Kendall, which had its own standing. Both the groups happened to be performing in Calcutta at the time in 1956. Shashi. The youngest son of Prithviraj Kapoor and younger brother of Raj and Shammi Kapoor, was then 18 and doing the dual roles of actor and assistant stage manager at Prithvi Theatre. And then one day, while a performance was on at the Empire theatre, Shashi was peering through the corner of the curtain to check out the audience reaction. "My glance fell on this fabulous looking girl who looked Russian." Shashi remembers. "Her face glowed pink. I tried to find out who she was and learnt that she was part of another theatre group -- one from the U.K. called Shakespearna, and since our contract had been extended they were at a loose end till we vacated the theatre. because they, too, were scheduled to perform there. I saw her in the theatre again the next day, and I couldn't stop thinking about her. So one day, I persuaded a cousin of mine to go with me to their hotel which was close by. I was so shy that I would never have been able to venture out on my own. I'd never had an affair and the only girls we were conversant with were from our own family. When we reached the hotel, she was there having dinner with her family. I was introduced to her father and we chatted a while, but she refused to even look up from her meal and I left without having exchanged a single word with her. I was very dejected. But the next day, she came for our play again and later came backstage and invited me for her play to be performed at a city college. You can imagine how I felt. I went. This was my first experience of watching Shakespeare on stage. I did not quite understand the language, Pucca English, but remember how lovely Jennifer looked in the role of Miranda in the play 'The Tempest'."
Shashi and Jennifer had obviously touched a chord in each other's hearts: but did not know how to make that first meaningful move. Shashi was too young and too inexperienced, and Jennifer too shy, suffering from the usual constraints a girl faces in such a situation. Says Shashi. "I was a real coward. It took me ages to even hold her hand. " Seems a little strange to hear the very suave, very charming Shashi Kapoor, who can today charm anything remotely female, saying this. But, I guess, everyone has to start somewhere. One day, he and Jennifer were to go to see a film. Shashi, who had, by then, been spending every free moment with Jennifer picked her up to go to the.theatre. Those days he earned a very small salary and travelled by local train. It was in the crowded train compartment, when the train suddenly jerked and he caught hold of Jennifer's hand to steady her. It had finally happened. But the problem was, as Shashi says, "I did not know how to let go of her hand after that"
During those courtship days I could only afford to take her to small vegetarian restaurants where a 'puri-bhaji' would cost four annas' and the height of luxury was a slap-up meal at Gordons for the princely sum of Rs. two or Rs. 2.50 The courtship would have continued indefinitely. as Shashl could not nerve himself to make a declaration of any kind. Then one day elder brother Shammi Kapoor took him to task and told him to bring Jennifer home to meet the parents. " But I chickened out because I thought I'd be thrashed." Shashi laughs."So I compromised and took Jennifer to Shammiji's place instead and Geeta Bhabhi promptly fell in love with her. A true romantic herself, she'd loan us her car and a little money to go out for a meal and a drive". Fed up of her sweetheart's delaying tactics, Jennifer, finally told Shashi. "You've known me for so long and never even made a pass at me. And I'm so much in love with you. That did it. Shashi spoke to his brother about Jennifer, who agreed in turn to speak to his father:. His parents, though not exactly overjoyed at the prospect of a British 'bahu', decided to give them a chance. provided they proved it was not puppy love. But Jennifer's father. the actor Geoffrey Kendall. was a different kettle of fish altogether. He was far from pleased. because, Jennifer, for him, was not only his daughter. she was also his heroine and manager of his company and he obviously didn't like the idea of losing her.
He told them in no unequivocal terms that they would have to wait for two years. Shashi started touring with the Shokespeareana Company because they were In need of a male juvenile lead. In 1958, when he asked Kendal once again for his daughter's hand he was refused. But this time Jennifer would have none of it. She put her foot down and told Shashi. "I'm mature and I want to marry you, let my father keep on refusing." So Jennifer and Shashi came to Bombay and were married in the traditional Indian style in July. 1958. The Kendalls did not attend the wedding. Being a few years older than him, she was so protective of him and looked after him so well. that she became an indispensable part of Shashi's existence. For instance. Shashl, like a true blue Kapoor, loved to eat and drink. But it was Jennifer who'd monitor his diet and make sure he looked and kept fit enough to continue successfully in his career as a film star.
This woman who meant everything to Shashi, had no secrets from her husband. Except one. She tried to hide the fact that she had got cancer as long as possible from him and continued working for their labour of love at the Prithvi Theatre in Bombay. But, after a long and painful battle, Jennifer succumbed on September 7. 1984.
Shashi with a faraway look In his eyes says, "Everybody loved Jennifer. She was friends with everybody and everybody she came in contact with, loved her. I've always had my share of enemies, but Jennifer only had friends." And in this admission lies Shashi Kapoor's acknowledgment of that loving. giving person that was Jennifer Kapoor.